School Uniform
Parents/Carers Please Note:
A smart uniform is worn by all the children. Our parents /carers are very supportive and ensure that their children wear uniform.
Due to Covid 19 we will NOT be able to sell school uniform at school for the foreseeable future. Please can you buy the following items from stores such as Tesco, Asda, Marks and Spencer and John Lewis - all items are available from these stores online. We also have an on line supplier, Shop Keep Easy (link below) where you can buy logo items and PE kit.
Grey school trousers (NOT jogging bottoms)
White shirts - cotton or polo
Grey skirt or pinafore
Black leather shoes
velcro fastening if your child is unable to do laces
Maroon jumper or sweatshirt - LOGO sweatshirts available from Shopkeepeasy, link below
NO blazers, or PE kit will be available in school - both available from Shopkeepeasy
Links for uniform:
Girls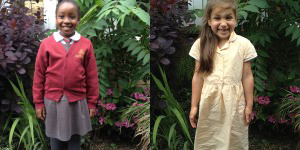 Burgundy Blazer with logo
Burgundy sweatshirt or cardigan
School tie
Waterproof jacket
Polo shirt with logo
Available from high street stores:
Polo shirt or white cotton blouse
Grey skirt or pinafore, grey trousers (not tracksuit trousers)
Dark-coloured tights/socks
Plain black footwear
Yellow and white check summer dresses
Boys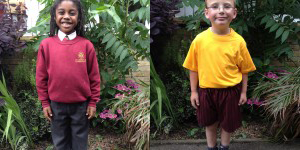 Burgundy Blazer with logo
Burgundy sweatshirt
School tie
Waterproof jacket
White Polo shirt with logo
Available from high street stores:
White shirt or polo shirt
Grey trousers (not tracksuit)
Plain black footwear
PE Kit
for boys and girls
Burgundy shorts
Plain yellow T-shirt
Burgundy jogging bottoms
Black plimsolls
Additional Items for boys and girls
Rucksack - Small or Large
PE Bag
Book bag
Water bottle
Jewellery (except for plain stud earrings and a watch) and nail polish are not permitted.
St James' Nursery
Sweatshirt
Showerproof jacket