Afterschool\Breakfast Club
At Key Stage 1 (Old Jamaica Rd) we have SJ's Breakfast/After School Club on every evening.
At Key Stage 2 (Alexis St) Fit4Sport run a Breakfast/After School Club that also runs everyday.
SJ's After School Club for KS1
Starts at the end of the school day – 3:15pm and ends at 5.45pm.
Our fees are £10 per evening, or £40 per week, part sessions are also available, please see form below. Please complete and return to Pat O'Connor.
Please see the attached Ofsted certificate which stipulates the regulations regarding the numbers and ages of children to be cared for at any one time.
There is a range of different activities for all age groups from outdoor games, planned play, use of laptops, and a range of crafts and group games are available - click below for our latest newsletter.
We have themed weeks throughout the year; we have been cooking, sewing, making a collage, colouring and other craft activities as well as playing and running egg and spoon races! We also take part in fundraising events for charities such as 'Sports Relief', 'Children in Need' and 'Comic Relief'.
After school club staff:
Pat O'Connor
Donna Searle
Colleen Curtis
SJ's Breakfast Club for KS1
Breakfast Club Details:
Starts at 7.30am
Costs £2.50 per morning or £12 per week
Please complete form below and return to Pat O'Connor.
We offer a variety of different breakfasts including cereal, bagels, fresh fruit, toast, and juice, so there is something for everyone to enjoy.
The children are encouraged to eat a substantial breakfast to keep them going throughout the day. During this time the children can play quiet games, colour in or read in a safe environment until the start of their school day.
Breakfast club staff:
Pat O'Connor
Geraldine Duffin
Mandy Callaghan
FitForSport for KS2
Extend your school day with Fit For Sport and keep your children active!
Breakfast Club; 0730 - 0900; £2.50 incl healthy breakfast.
After School Club (includes light snack): 1530 - 1630 hours £6.70; 1630 - 1800 hours £8.24; 1530 - 1800 -hours £10.30.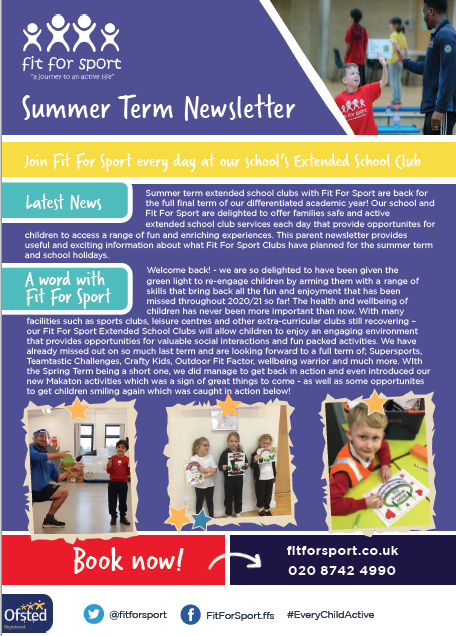 Fit For Sport, continues to run the Extended School Clubs at St James'. Fit For Sport has lots of new and exciting activities planned to keep pupils active and engaged whilst learning the benefits of leading a healthy lifestyle!
The term will be filled with Super Sports, Crafty Kidz, Fit Fun and Team Tastic activity sessions, alongside Fit For Sport's special Activity Challenge that takes place across all of their services. We will also be making full use of Fit For Sport's revolutionary Healthy Active Schools System which enables us to record, monitor and improve pupils' activity levels.
For more info regarding Fit For Sport, call
0845 456 3233 *,
calls cost 3p/min.
Book 2 weeks in advance for early booking rates.