eSafety - Parents
We hope you will find the selection of information, videos, top tips and downloads (at the bottom of this page) we have gathered together here will help you and your family in safe internet use.
Who to contact if you are worried:
Who can I contact if I am troubled by something I have seen on the internet?
Click this CEOP icon (Child Exploitation and Online Protection) to connect directly with the National Crime Agency and report an incident:

St James' has it own reporting system called Whisper, where you can email or text concerns to members of staff who are responsible for child safeguarding within school. Reports can be anonomous if you choose.
At St James' we take all aspects of the children's safety very seriously and this includes teaching them to use the internet appropriately, both at school and at home. As a London Grid for Learning school, we have access to many eSafety resources targeted specifically for children and their families, to inform on the many aspects of safety that come with the use of all technology that is capable of connecting with the internet. Why not logon (using your child's My USO logon sent home by letter) to LGFL's Cyberpass section. There are informative videos and tips and quizzes to test your knowledge. We also subscribe to a school and parent eSafety newsletter 'Ditto'; read the latest one by clicking here.
A recent booklet produced by the Children's Commissioner highlights the importance of balance of digital use for children and sets out a framework known as the 'Digital 5 a Day'. Click the chart below to see a full copy:
​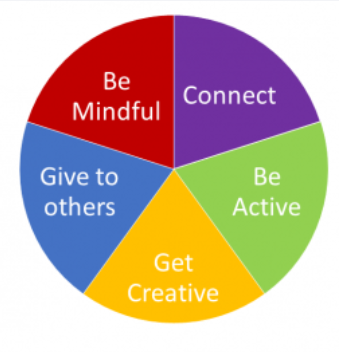 General Help:
Settings on devices being used by children
NEW POST: May 2018: Platform Guides -advice on how to stay safe on individual social media platforms
NEW POST: May 2018: Screen Addiction and how to tackle it
NEW POST January 2018 : Concerns regarding the use of Robolox
NEW POST January 2018 : Concerns regarding the use of Snapchat
Click on any of the images below for specific advice on settings within these websites/apps:

Office of eSafety Commission: a list of how to report and how to put settings on a wide range of live streaming apps, from A - Z (or AirG to YouTube):
General advice and resources from Google - Internet Legends
Google Safety Centre - advice on your browser settings
Use a child-friendly search engine like Kids Rex or Swiggle
Searching for images safely – Picsearch has a family friendly policy
Parental Controls Interactive Guide by internetmatters.org
Parental controls by saferinternet.org.uk
Stay Informed:
Links to sites with general tips and resources on internet use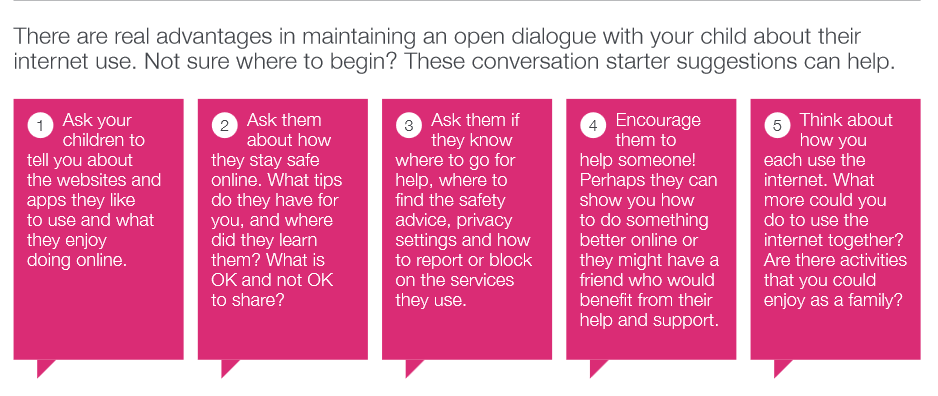 (image from http://www.childnet.com/ufiles/Supporting-young-people-online.pdf)
backgroundchecks.org called Concerned Parents Toolbox
Game reviews and their suitability for children at commonsensemedia.org.
Sign up to the NSPCC icebreaker email series - become an expert on your child's online world in 6 weeks.
Net Aware, a simple guide for parents to the most popular social networks, apps and games.
A large resource of eSafety topics and links provided by London Grid for Learning parent support.
Advice on Cyberbullying:
Useful guidance from internetmatters.org
A range of concerns addressed regarding bullying at Bullying.uk
Informative Video Links:
A CEOP video about online grooming
A CEOP video called "The world changes; children don't"
A CEOP video about children protecting their personal information