Welcome to Year 5
Our classes are 5 India and 5 Japan
Our core book this half-term is 'Shackleton's Journey' by William Grill, a book that weaves a detailed visual narrative of Ernest Shackleton's epic journey to Antarctica.
Weblinks:
Information and exhibitions about HMS Endurance http://solarnavigator.net/history/hms_endurance.htm
Information on Ernest Shackleton https://www.bbc.co.uk/history/historic_figures/shackleton_ernest.shtml
Fun facts and information about Antarctica https://www.kids-world-travel-guide.com/antarctica-facts.html
Look at Shackleton's original advertisement to recruit crew members: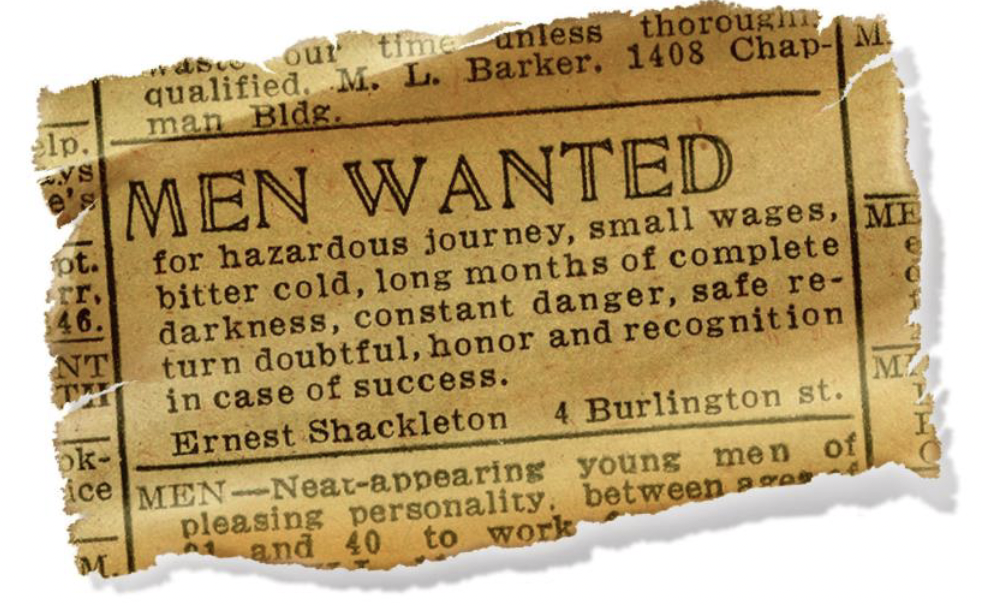 We have been sent details that may be of interest to you regarding the Independent Schools Examination Board's Common pre-test:
"From September, parents will be able to register for free on a separate ISEB portal and to indicate from a drop-down menu where they will be sitting the test. I will email parents of all registered applicants the link at the appropriate time. For your information here are two links that parents currently have access to, providing them with guidance on the Common Pre-test and information on preparing their children:
https://www.iseb.co.uk/wp-content/uploads/ISEB-Common-Pre-Tests-Guide-for-Parents-Guardians.pdf
https://www.iseb.co.uk/wp-content/uploads/ISEB-Common-Pre-Tests-Preparing-your-Child-for-the-Tests.pdf "
What to do at home?
- Mathletics
- Times Tables Rockstars
https://play.ttrockstars.com/auth/school/student
- Spelling Shed
https://www.edshed.com/en-gb/login
- Handwriting
https://teachhandwriting.co.uk/continuous-cursive-beginners-choice-2.html
- Read for 10-15 minutes daily.