Physical Education
Our mission here at St James' is to educate both mind and body. We think it is important to develop a strong understanding of health, promote a positive attitude towards physical activities, competition, personal-fitness and sporting skill.
We are lucky enough to have a full time PE teacher here at St James' CofE . We are in receipt of Sports Premium funding (£9,940) which helps to fund the employment of this teacher full time. We also have our amazing Play Leaders that work with the children at Key Stage 1 and 2.
We have well-equipped halls at both sites and extra play equipment to the playground in both schools. Nursery and Reception have a new physical active play area in their outside area.
We have local swimming pools nearby that we are lucky enough to be able to use, the Salmon Centre for indoor clubs (football) and outside for rock climbing and the Oval Cricket Ground where the children compete in indoor cricket.
Your child will be expected to bring a PE kit or remove their outerwear for indoor Physical Education. A school PE kit is available from our uniform suppliers https://www.shopkeepeasy.com/100829
Interschool Competition
As part of our partnership with the PE Network we regularly take part in interschool competitions in a variety of different sports across the academic year. This year has already got off to a flying start with four victories under our belt this term alone.
Boys Senior Football:
Last term our senior boy's football team took part in the PE Network's six-side league held at Bacon's College. After four wins out of five scoring 31 goals in the process St James' ran out victors and in doing so will take part in the Southwark finals later in the year due to be held at Crystal Palace's training facilities.
They were also invited to be part of the inaugural "Ballers Cup" which was held to open Peter Hills new sports facilities. The team, which was made up of a few debutants, did well in the group stages finishing 2nd before progressing into the semi-finals where they went head-to-head with old rivals Rotherhithe. A very even game had to be decided by penalties, with Ibrahim stepping up to convert the winning kick. It was a similar tale in the final when the boys came up against the home team Peter Hills. After the final whistle blew there was nothing to separate the teams so yet again it went down to penalties, but this time it was all about the goalkeeping. Two times Wesam stood tall to deny Peter Hills meaning that St James' were crowned the champions!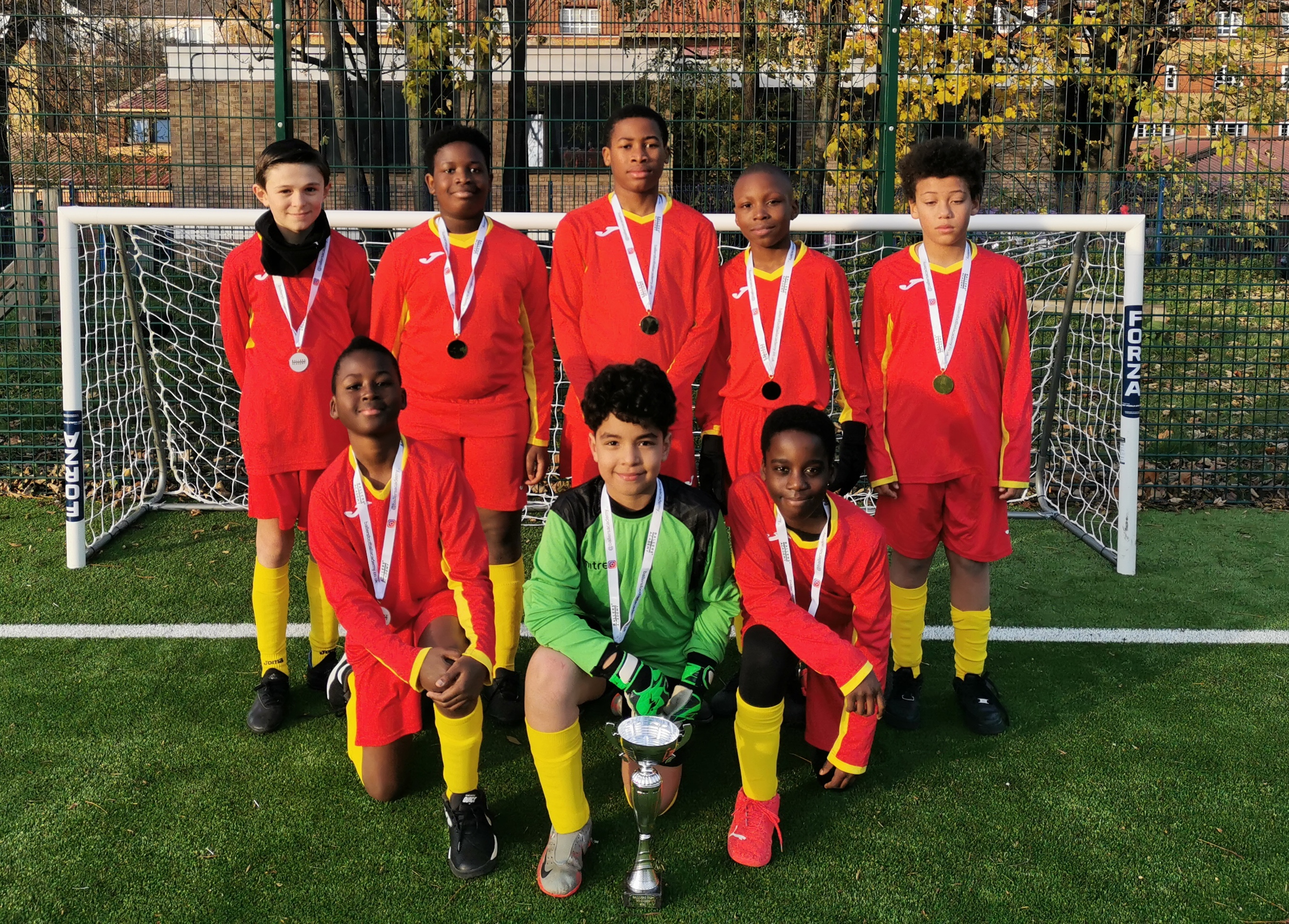 Year 6 Mixed Athletics:
Last term also saw our senior athletes compete in the PE Network's indoor athletics tournament held at COLA. The day featured a variety of track and field events including relays, short & long distance, throwing and jumping and out of the 12 track events St James finished first in seven of them and second in four. In the field we finished in the top two in all four events. We placed first in both the girls and boys heats meaning we finished the day as overall champions.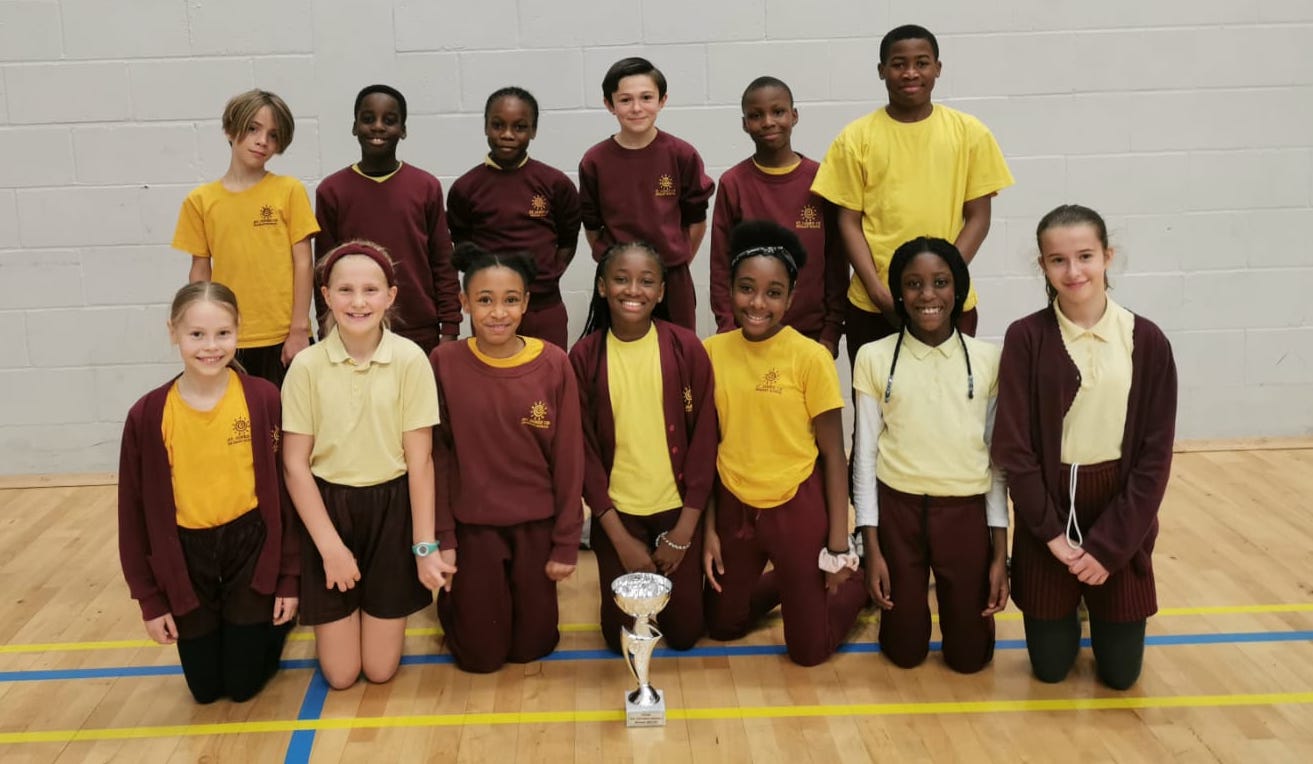 Year 5 Mixed Futsal:
Last term's success wasn't just down to our year six students. In the year 5 Mixed Futsal Tournament we also came away with the win. Out of the four games played we were unbeaten, winning three and drawing the other scoring 18 goals and only conceding three which was great considering the final result went down to goal difference.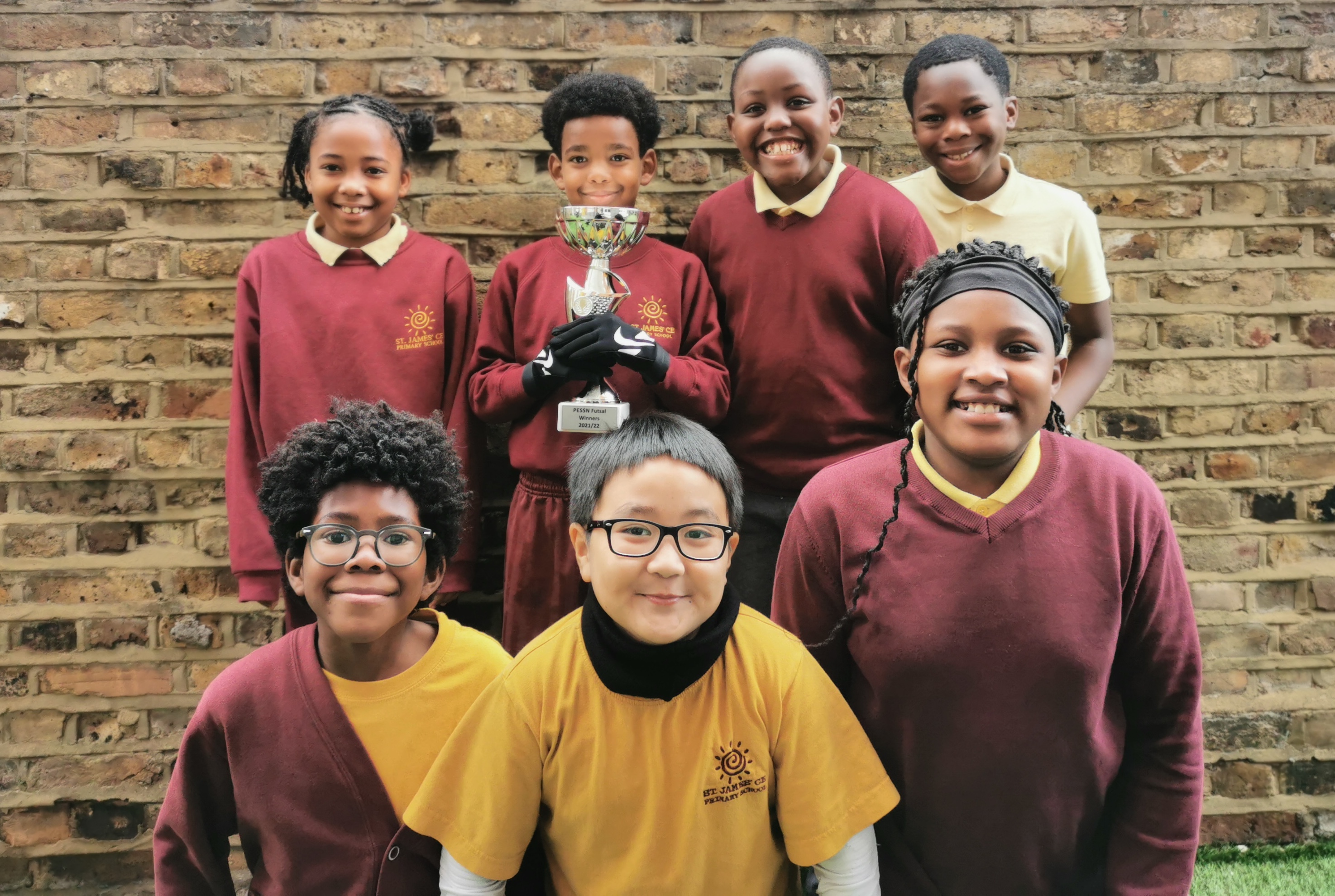 Year 4 Mixed Athletics:
Our 2022 has got off to a bang as we took part in the PE Network's Mixed Year 4 Athletics Tournament. 12 of our athletes headed down to COLA to take part in a mix of running, jumping and throwing events against three other primary schools in a very competitive morning. Our boys did incredibly well to win all their running events and finish 1st or 2nd in each of the field events. Our girls finished 1st in half of the track events and 2nd in the other half and won both the high jump and long jump. This meant we won both the girls and boys heat and in turn won the competition as a whole. A massive well done to all our year 4's that took part and have brought home the first trophy of the year - hopefully there are many more to come!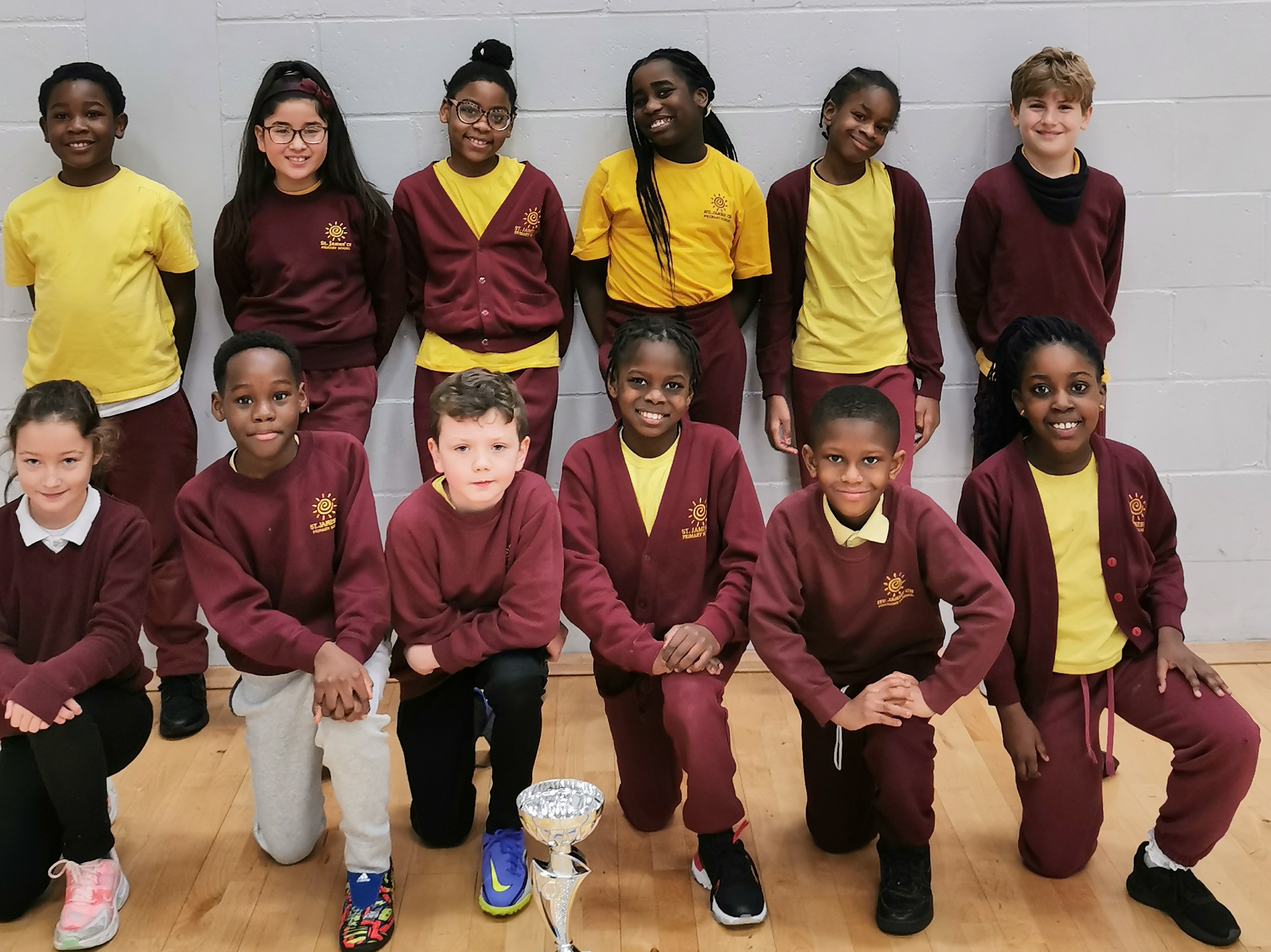 Year 6 Mixed Netball:
After the recent success of the Year 4 Athletics team who brought home the gold last week, Year 6 were itching to get back out and maintain the 100% winning start to the year. Two teams took part in the PE Network's Mixed Netball Tournament, and having spent last half-term working on their netball skills expectations were high from Coach Brenta and Coach Hicks.
12 teams took part throughout the whole of Southwark in group stages, semi-finals and final. Some incredible passing, moving, shooting, defending and above all teamwork lead to St James' being crowned champions in what was a fiercely contested day. We have now been entered into the London Youth Games Netball Competition to represent the entire borough against the rest of the city. Fantastic work form all our team!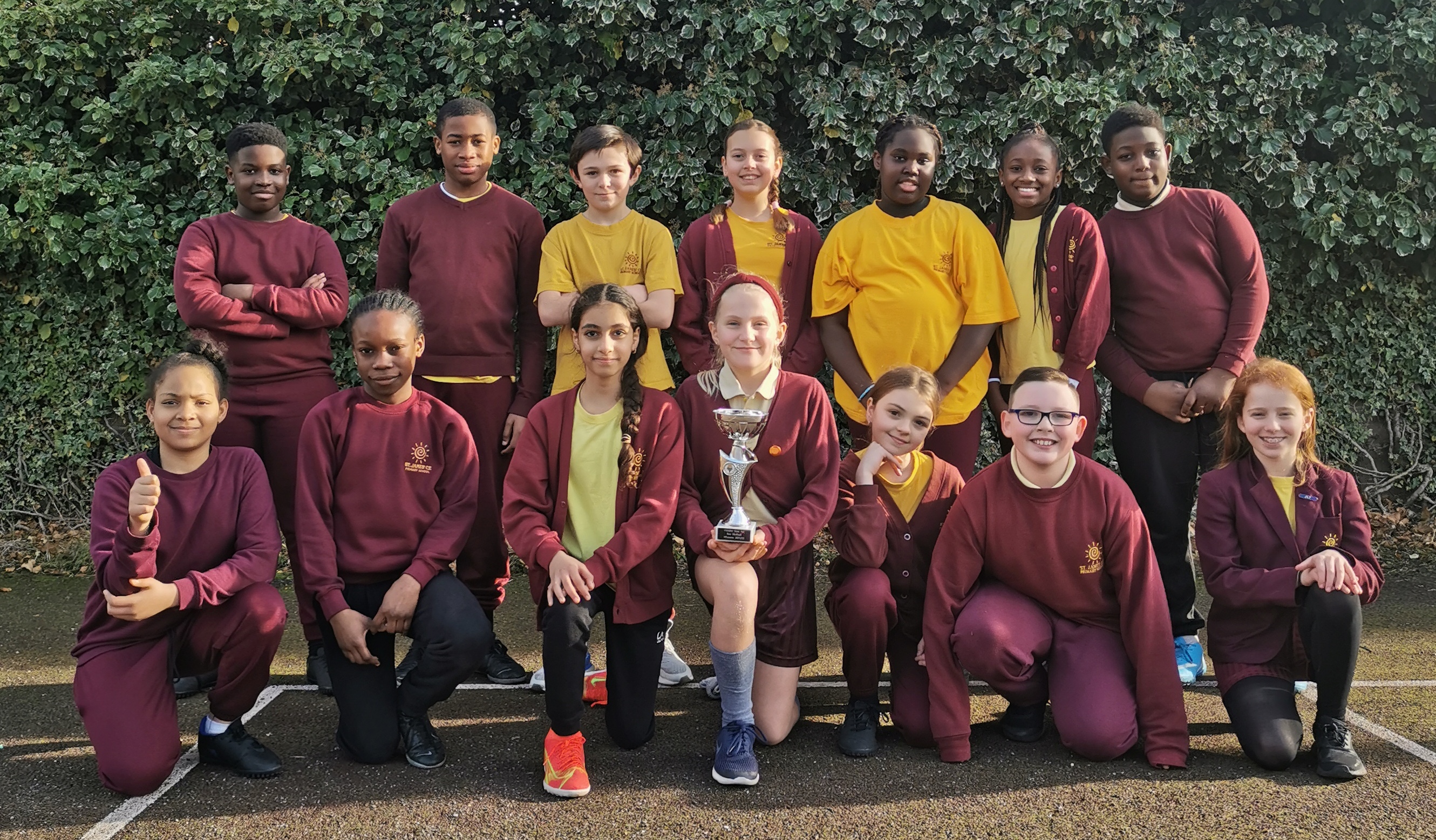 Senior Mixed Football:
With our Senior Boys Football team pulling off the double earlier in the year the girls were keen to show what they could do as we took part in the Year 6 mixed football league in Borough. Four teams competed in the after school league with St James' finishing with one win, one draw and one defeat meaning they were going to go head-to-head with St Jude's in the final, a team they had drawn with earlier. Goals from Zion, Senay and Joshua meant that we ran out comfortable 5-1 winners! 22 players represented the school in the league and were all part of the team's success. The girls more than held their own in a tough league with a special shout out to Remas who picked up two player of the match awards!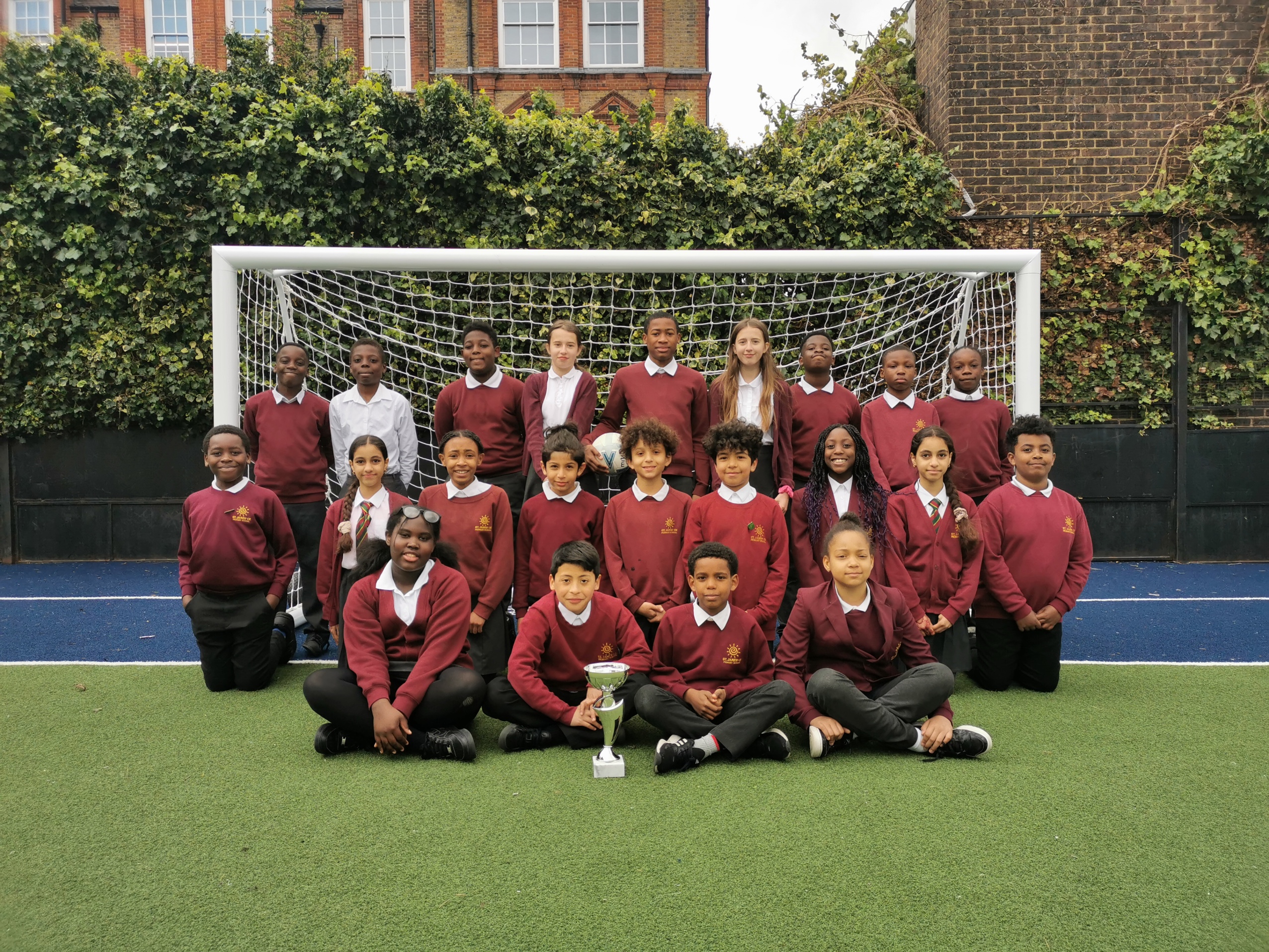 Year 4 Platform Cricket Festival:
This year has seen us start a partnership with Platform Cricket, who, as part of this partnership had visited school in the spring term to work with our year 4s on their cricket. Well now was the time to showcase what we had learnt as we took part in the Platform Cricket Festival at Southwark park. 6 teams took part in drills and games to determine the best team in Bermondsey. St James' had clearly remembered what the guys had taught them as they won all five of their group games to progress to the final where a string of big hits, wonderful bowling and tireless fielding saw us grab the deserved win. This also means that we will progress to the all London finals later in the year, well done to the children for their fantastic effort!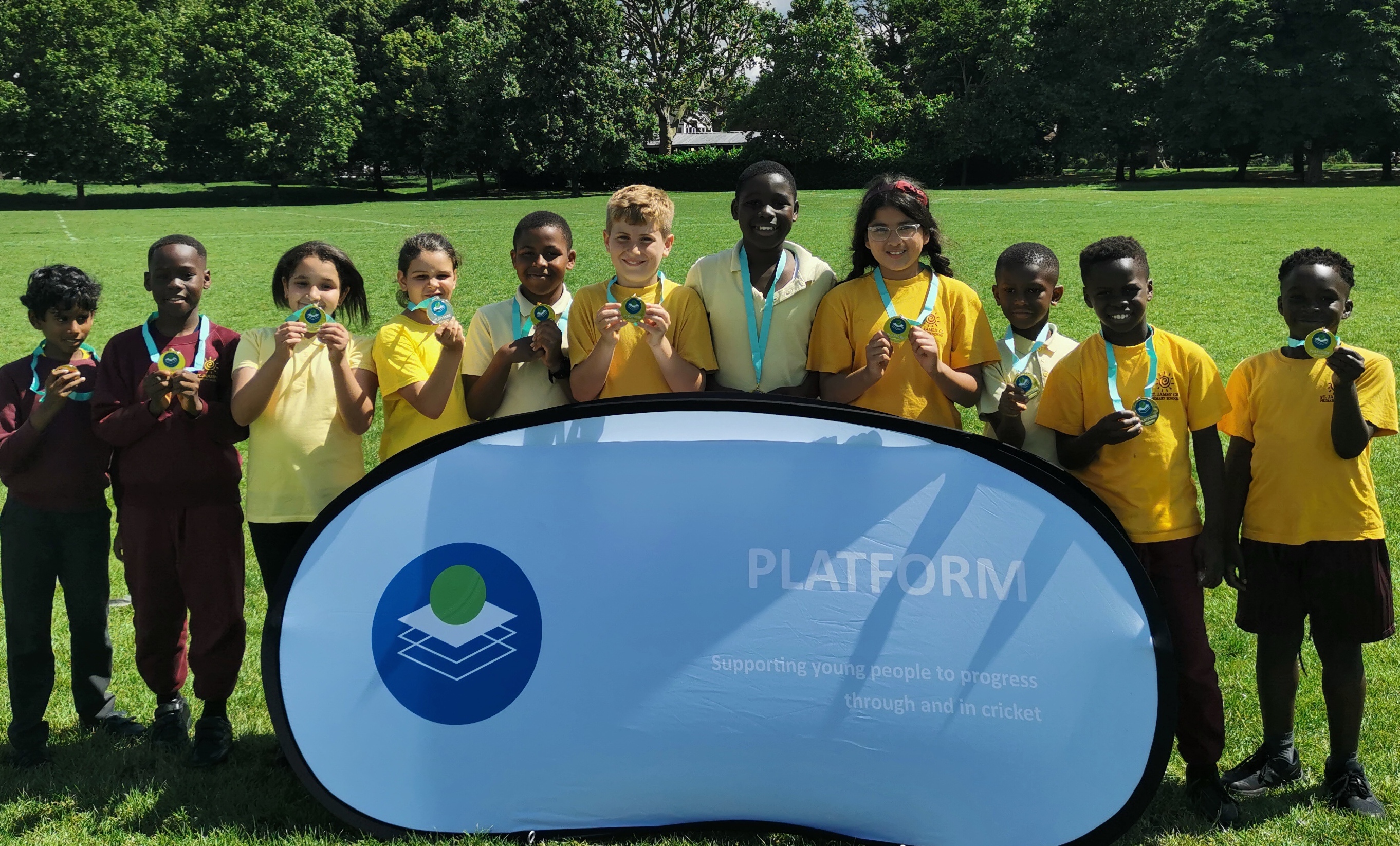 PE Network's Festival of Sport:
This summer term our Belgium class had the opportunity to take part in the PE Network's Festival of Sport at COLA. Belgium had previously been Lucky enough to receive an additional PE lesson a week with one of the PE Networks specialist coaches and due to their hard work and fantastic ability they were invited to join a group of other schools to take part in the event. The children got to experience a range of sports including; volleyball, tennis, spike ball, trampolining, dance, capoeira, cricket and football and all had a wonderful time!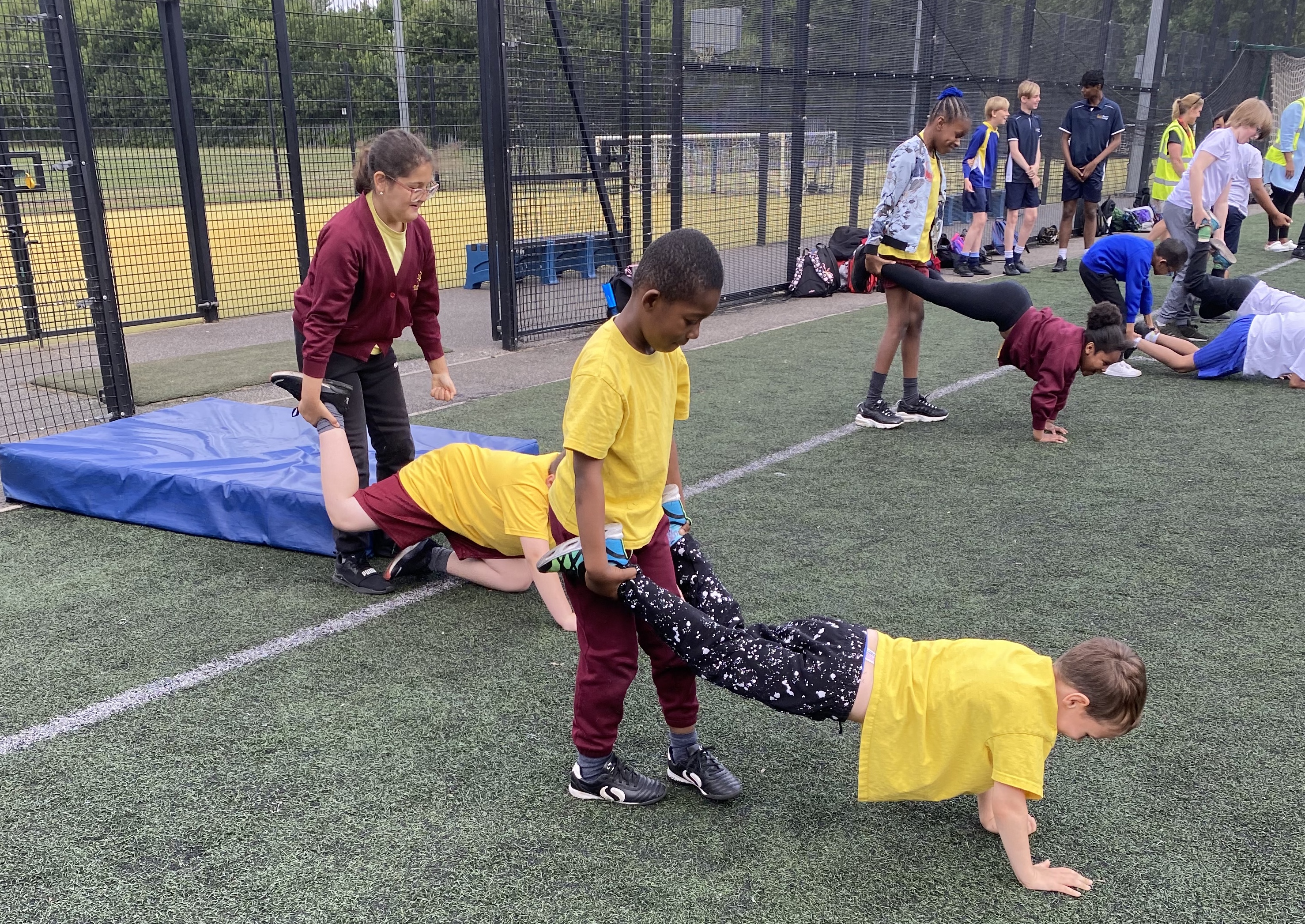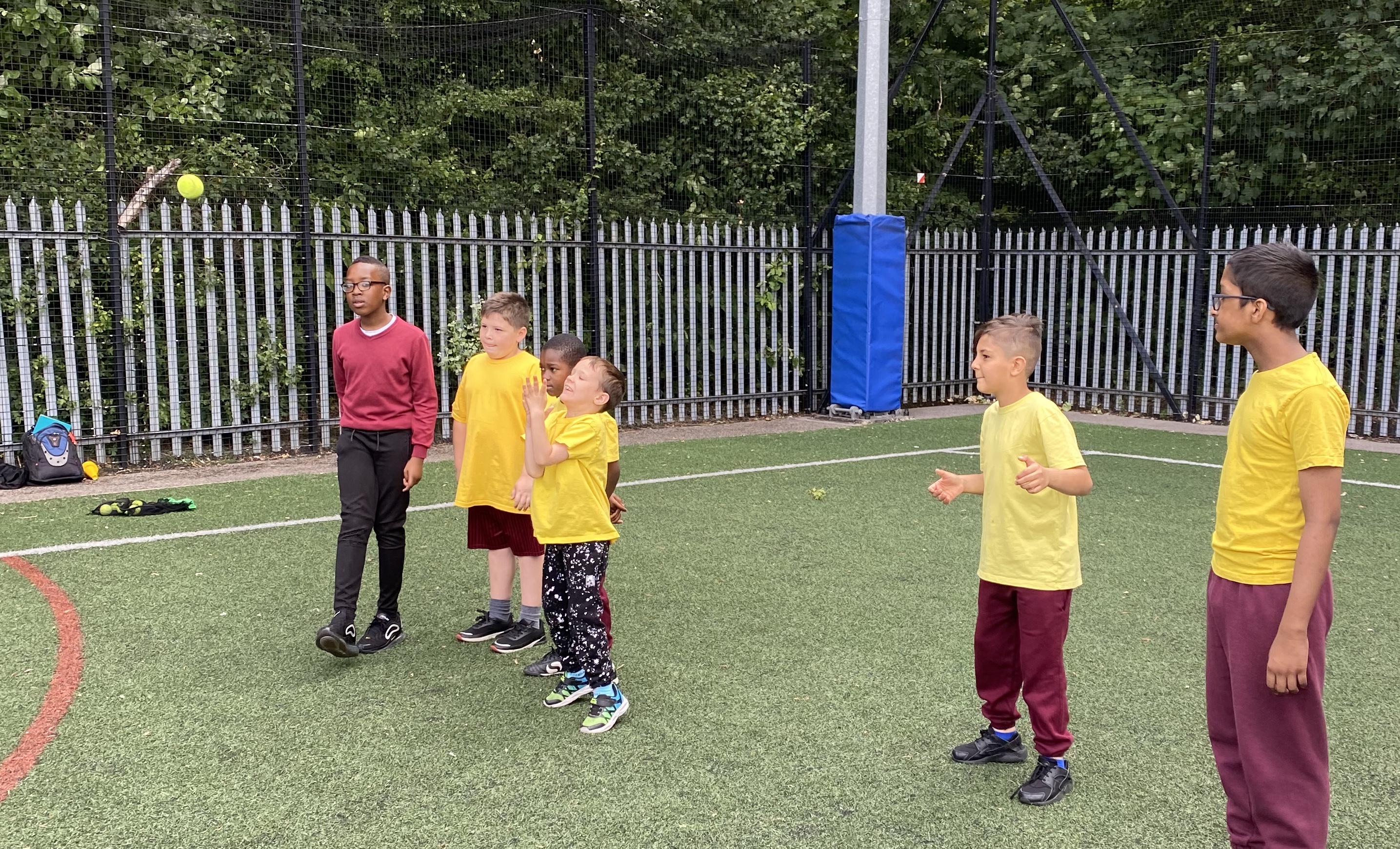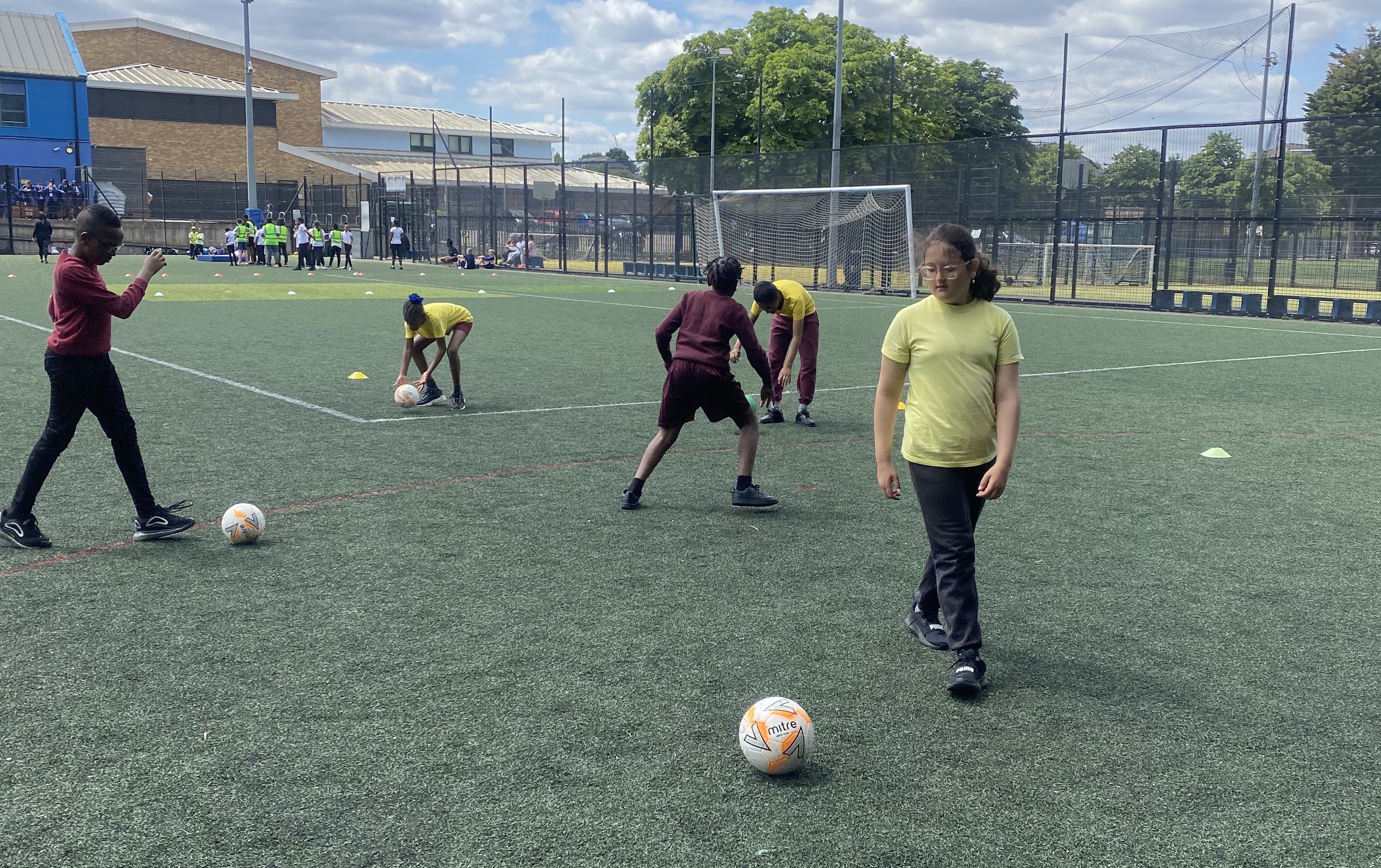 Year 6 Girls Football:
In the summer term our Year 6 Girls took part in the PE Networks Euro's Football Tournament in celebration of the upcoming Women's Euros this summer. 13 schools and over 150 girls took part in an incredible day of very competitive football. This was the first time our girls had played a competitive game of football as a team and seeing them hold their own against some very good schools was amazing. Out of the three games we played we won two, only losing to the eventual champions Camelot. We played some fantastic attacking football which saw goals from Remas and Maisie secure two 2-0 wins in the group stages.