Welcome to Reception
Our Reception classes this year are R England and R Ireland.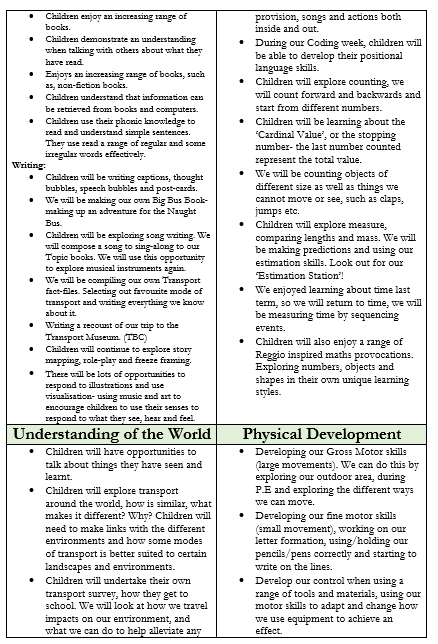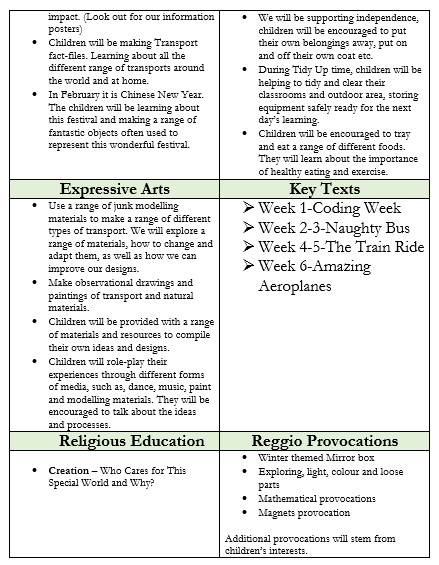 Additional texts:
Choo Choo by Petr Horáče
Mr Grumpy's Motor Car by John Burningham
All Aboard for the Bobo Road by Steven Davies and Christopher Corr
Those Magnificent Sheep in their Flying Machines by Peter Bently
Emma Jane's Aeroplane by Katie Howarth
Dig, Dig, Digging by Margaret Mayo
Oi! Get Off our Train by John Burningham
Key information:
Wednesday 6th February 2019: 'Build a Car/Boat' morning, 9:30-11:30. Come along and work with your child to build your favourite mode of transport. More information in your weekly newsletters.
Friday 15th February 2019- break up for half term back to school Tuesday 26th February.
Monday 25th February 2019: Inset day for all staff – school closed to children.
World Book Day-Friday 8th March 2019- more information in your weekly newsletters.
Friday 22nd March 2019- Sports Relief Day
Tuesday 26th March 2019: Reception England and Ireland Parents' Evening.
Friday 29th March-Non-Uniform Day-. Easter Egg tombola for either site in final week.
Friday 5th April: Break up for Easter holidays – HALF DAY OJR 13:15/Alexis St 13:30.
P.E:
Reception England have their P.E on Wednesday mornings
Reception Ireland have their P.E on Monday mornings.
Homework/Home-school books
The home-school books will be sent each week along with the weekly newsletter. We look forward to seeing all the lovely work the children do at home.
All of Reception have also been issued with logons to an online journal called Tapestry, where both the teachers and you can upload photos and notes as to what your child has been doing. Do let us know if you any problems with your logon and we can help you.
Click below to link to a phase two and phase three phonic song: