SEN Provision
We have been sent details of some 2 hour workshops held at St Thomas' with information following diagnosis of autism. If this may be something that would be helpful to you please see the bottom of the page for a flyer with all the dates. They are drop in workshops so no booking is required but they are centered around different age groups so be sure to pick the one relevant to your family.
We have been sent details of autism-friendly cinema showings, click on this link to see full details.
Local newsletters including from Evelina Speech & Language and Occupational Therapy News are posted at the bottom of this page for you to download.
Click on the Local Offer logo below to access the latest newsletter, full of useful information of services available to you:

Click on the logo below to link to a range of course for Parents offered by the Local Offer from The London Borough of Southwark.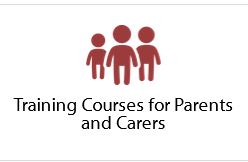 Every member of the school is viewed as special and we all have needs. However, some additional support can be offered to some children. Please find below some useful information and links for parents/carers and children. If you would like to chat about SEN please do make an appointment with our Parent Support Adviser.
Inclusion is at the heart of our values at St James' and we use an array of interventions and strategies to ensure pupils have a wide range of opportunities to learn, some of which are listed below:
Springboard
Springboard is a company that specialise in reading and literacy for pupils on a one to one basis. St James currently has 12 pupils (6 from OJR and 6 from LXS) who benefit from half hour one to one sessions on both Tuesdays and Thursdays every week.
Trugs
Trugs is a phonics/reading based game that is used to build pupils development and understanding whilst also offering a fun way to play in small groups.
Lego Therapy
Lego therapy is used in the school in small groups. Students assume different roles within the building process and develop a better understanding of many social and instructional roles that can be transferred into everyday life.
Nessy
Nessy is a reading, phonics and spelling based computer program that is designed for pupils with dyslexia and reading difficulties. The program is intended to be fun and motivating as well as engage pupils with reading through the games and animations used throughout. Pupils at St James use Nessy in one to one sessions where progress is consistently reviewed.
Speech and Language link
Speech and language link is an online program that can assess pupils speech and language abilities and then provide resources to help strengthen any particular areas. This program is used on a one to one basis within the school.
Following the introduction of the SEN new code of practice, we have clarified the St James' SEND Reform - see the link below.
Assistant Psychologist (AP)
Working with us at St James', we now have our own Assistant Psychologist (AP) who can work with children on an individual or group basis. For more information please see the leaflet attached below.