Welcome to Year 6
Year 6 Parents please note:
There is a misprint on the Admissions policy posted on the Compass School website relating to the over subscription criteria. It should read - SEN and Looked After Children, siblings and then distance from school.
There is NO supplementary form and the pupil premium criteria should not form part of the over subscription criteria.
The video below is a summary of the Key Stage 2 tests that Year 6 pupils will take in England in May 2017.
Topic
This term, we will be looking at the text 'The Last Wild'. We will be doing lots of geography and science worked linked to the text. Here are some optional projects which can be done at home to support our learning in school.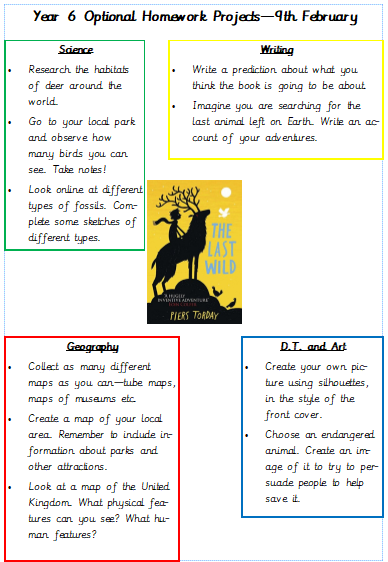 Homework
There will be a large emphasis on homework in year 6 this year, children will often be required to read parts text from our SATs reading text books and complete questions from what they have read. Homework shall usually consist of spellings, a maths activity, a grammar task and a reading task.
Other points of note
We ask that children read every day and input this into their reading journal.
PE this year will be on a Thursday afternoon.
You can follow Year 6 on Twitter using St_JamesYear6. This will be a great way to keep up-to-date with daily goings on in year 6.
Books that could help you study at home: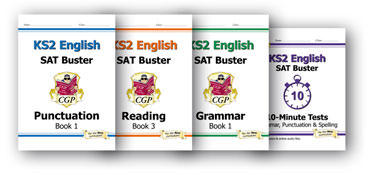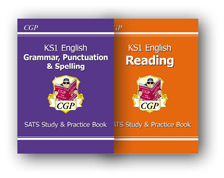 Online apps and games you could try:






Times Tables and Number bonds in decimals:
http://www.topmarks.co.uk/maths-games/hit-the-button
Bus stop division:
http://www.bgfl.org/bgfl/custom/resources_ftp/client_ftp/ks2/maths/school_booster/busstopdivision.html
Word Problems:
http://resources.woodlands-junior.kent.sch.uk/maths/wordproblems/y6matha.html
Practise skimming and scanning and answering exactly what the questions asks
:https://www.jumpstart.com/free-online-3d-virtual-world-for-kids.aspx?pid=js&cid=futureland
Practise writing complex sentences:
http://www.sentenceplay.co.uk/DroppingIn.html
Practise proof reading sentences for the correct punctuation:http://www.sentenceplay.co.uk/SentenceDoctor.html